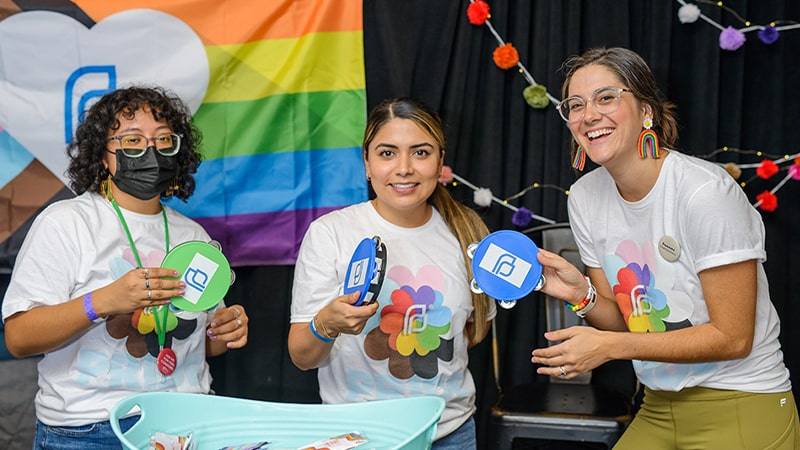 Sign Up For Our Careers Newsletter
Celebrating National Social Work Month with Planned Parenthood of the Pacific Southwest
March 17, 2023
It's National Social Work Month, which means it's time to celebrate the amazing work done by social workers worldwide. 
This year's theme is "Social Work Breaks Barriers", and according to the National Association of Social Workers (NASW), it's intended to underscore the innovative ways in which social workers for more than a century have empowered people to overcome challenges so they can live to their fullest potential. 
The theme is also intended to remind us that it's  time to inform the public, policymakers, and legislators about how social workers have always broken barriers when it comes to the services they provide in an array of sectors – including hospitals and mental health centers, federal, state and local government, schools, community centers, and social service agencies. We couldn't agree more. 
At Planned Parenthood of the Pacific Southwest (PPPSW, we are proud to recognize our talented team of clinicians – including social workers – who provide direct care to more than 120,000 patients from one of our region's 19 health centers. Our clinicians work tirelessly and passionately to build healthy communities and help ensure that everyone has access to quality reproductive health care. Through counseling sessions, home visits and community events, these clinicians ensure that vulnerable people are not forgotten – they provide a much-needed voice to underserved populations. 
And as the hurdles to getting safe, affordable abortion care mounted for millions across the country, our Care Coordination team has expanded to meet the needs of our most vulnerable patients who need help navigating care from far away. 
National Social Workers Month is an opportunity for all of us at PPPSW to thank our team for their hard work and inspiring dedication! From providing access to quality health to helping navigate complicated systems like travel arrangements, insurance and benefits – our clinicians help people and communities break boundaries and thrive in an ever-changing world. 
At Planned Parenthood of the Pacific Southwest, our clinicians are critical to our mission of empowering and supporting people to make informed health and wellness decisions. We are immensely proud of their work and thank them for their dedication and commitment during this important month and always.
Are you passionate about advocating for access to health care services? As a clinician social worker for PPPSW, you can play an important role by supporting individuals and communities, advocating for marginalized groups, addressing inequitable access to resources, and ensuring everyone receives the support they need to thrive. Find out more about the roles we have available.