PPPSW's vision is a world of equity, where access to health care doesn't depend on who you are or where you live.
Our commitment to "Respect and honor all people" (part of our In This Together workplace values) means we intentionally create an inclusive environment where we all feel valued, supported and can contribute our best. We celebrate and encourage diversity in all forms and promote equity through our practices, policies, systems, and behaviors. We are In This Together.
Our Inclusive Hiring Process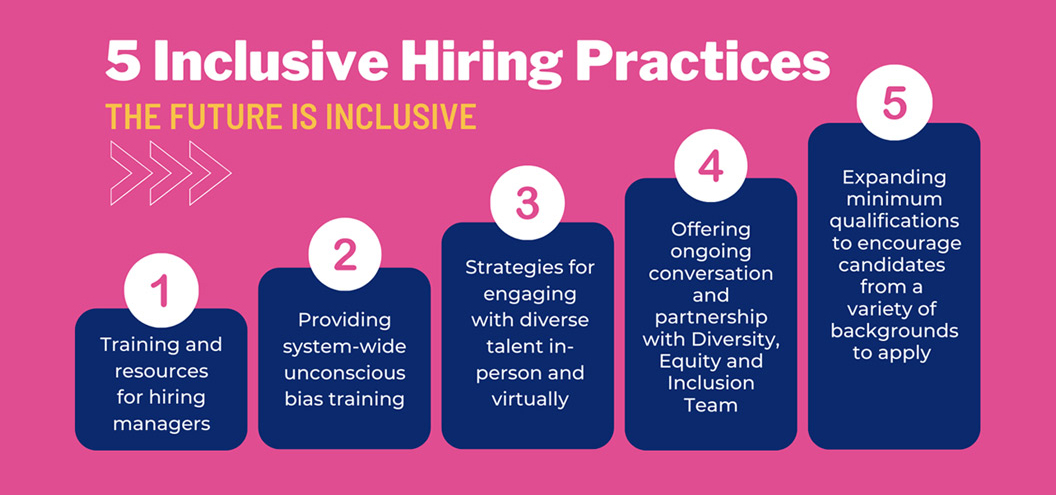 The Future is Inclusive
What Equity and Belonging Looks Like

Inclusive environment for staff and volunteers
We ensure a welcoming, inclusive environment for staff and volunteers where we all feel respected, valued and supported and can contribute our best.

Our practices, policies and systems
Our practices, policies and systems promote equity among staff and volunteers.

Skilled staff and volunteers
All PPPSW staff and volunteers are skilled at working across differences, using inclusive practices, and working to reduce the effects of bias and oppression.

Inclusive environment for patients and the communities
We ensure a welcoming, inclusive environment for patients and the communities we serve that considers and addresses their varied realities and needs, leading to increased health equity in our regions.

Our relationships with community partners
Our relationships with community partners are wide-ranging, collaborative, and rooted in a community-led social justice agenda.

Broad diversity
PPPSW staff, management and Board reflect and embrace the broad diversity of the communities we serve.
Building Blocks to Equity and Belonging
Diversity, Equity and Inclusion is an agency-wide priority.
Our goal is to provide quarterly updates to help you hold us accountable to our commitments.
Recent Successes
Agency-Wide Equity and Belonging Objectives
Our strategic plan centers on equity and belonging, including strategies focused on health equity, workplace equity, improving community social conditions, and ensuring staff and Board have the knowledge and skills to promote equity and an In This Together culture.
Health Equity: Addressing Disparities
We are committed to actively dismantling systems of oppression that lead to poor health outcomes. That means mapping data about our patients to identify, prioritize and decide how to address any disparities in access, outcomes and experience among Black, Indigenous and people of color, as well as young patients (under 25) and patients who report same-sex partners.
Commitment to Black Communities
In spring 2020, we launched our Commitment to Black Communities in response to racial uprisings that took place throughout the country. PPPSW recognizes our historical role in contributing to the oppression of Black people and our role in addressing that oppression. Our Commitment to Black Communities focuses on three priorities, which are now used to shape our annual Equity and Belonging Workplan.
Pay Equity and Pay Transparency
Outside auditors evaluate our pay structures and policies for equity. We share with all employees how compensation is decided for new hires, salary increases and promotions and share pay scales for all positions within PPPSW.
Inclusive Hiring Practices
We work hard to ensure our hiring practices proactively encourage applicants of all identities. Besides in-depth training and resources for hiring managers, we expanded minimum qualifications to encourage candidates from a variety of backgrounds to apply. Our Talent Strategy team regularly seeks strategies for engaging with diverse talent (in-person and virtually).
Employee Resource Groups (ERGs)
ERGs are voluntary, employee-led groups made up of individuals with common interests, backgrounds or identities. ERGs foster psychological safety, contribute to a more equitable and inclusive workplace, and help us live up to our organizational vision and values.
Diversity, Equity and Inclusion Council
Each year, the DEI Council rotates members from every position in the organization to join an existing team of diverse individuals who provide advice, guidance and insight to the Equity and Belonging Steering Committee regarding the organization's diversity, equity, and inclusion work.
DEI Rounding
The DEI Team conducts rounding at the health centers. This is an informal process where we briefly check-in with staff to get to know them better and to ask questions about how their work is going. The goal of DEI rounding is to provide an opportunity for staff to share what's on their mind regarding DEI, and for members of the DEI Team to have an opportunity to hear thoughts or concerns directly from staff.
Top Diversity Employer 2022
Planned Parenthood of the Pacific Southwest is proud to announce that we have been named Top Diversity Employer by Circa Diversity Jobs. This award was given to employers that have shown consistent dedication to recruiting and hiring from all diversity groups. We are excited to continue advancing and promoting DEI in the workplace.
Opportunities to learn, grow and engage
Inclusion Skills Training
All staff within six weeks of hire complete an 8-hour training focused on concrete skills for working across differences. We talk about strategies to reduce unconscious bias and how to avoid and recover from microaggressions. All staff also participate in six "microlearnings" each year to reinforce and build on these skills. Topics include understanding intent vs. impact, calling in not out, and bystander interventions.
Identity Observances
Throughout the year, staff plan and facilitate a myriad of events to raise awareness, increase staff engagement and celebrate the rich diversity within the organization. The observances included open dialogues, learning sessions, movie viewings and book discussions to honor Black History Month, Transgender Awareness Week, Veterans Day, Juneteenth, Hispanic Heritage Month, Pride and many others.
Solidarity Convening
This is an intentional and dedicated space created for staff who identify as People of Color to engage, build skills, and network with other PPFA People of Color across the Federation. The convening includes, workshops, dialogues and training sessions that lift up and model our workplace value of Respect and Honor All People. Staff have been invited to attend the live virtual event or to view the recorded sessions on their own time for overtime pay.
Crisis Response Listening Circles
We recognize that what happens outside our walls affects our staff. In the wake of traumatic external events, the DEI Team hosts Listening Circles to assist staff in processing their emotions and supporting each other.
LEADERSHIP BEST PRACTICES
Cultivating Self-Growth
Definition: Our leaders identify opportunities for growth and commit to them. We take time to reflect on our actions and impact, with an eye toward curiosity, humility, and self-care. We understand that the mission and business are stronger when we engage in our own evolution.
Skills:


Practice self-reflection, vulnerability, and learning

Model self-care and wellbeing

Explore how you handle conflict

Learn with your team
VALUE: WE RESPECT AND HONOR ALL PEOPLE
Investing in Our People
Definition: Our leaders nourish and support their teams as they navigate challenges connected to Planned Parenthood's bold mission. We make our people feel seen, heard, and appreciated. We ensure people enjoy the benefits of feedback, coaching, and learning opportunities.
Skills:


Create a culture of learning

Give and receive feedback

Hold each other accountable

Convey care and appreciation for others
VALUE: WE TEND TO THE TEAM
Leading with Empathy
Definition: Our leaders respect the journeys of others by listening deeply, being present, and sharing information generously and appropriately. We value the full spectrum of opinions and honor different backgrounds and experiences. We recognize that privilege and oppression affect our teams and communities. We put stakeholders at the center of decisions that may affect them.
Skills:


Listen and engage thoughtfully

Be kind

Create an environment that engages all identities and experiences
VALUE: WE RESPECT AND HONOR ALL PEOPLE
Championing Equity and Access
Definition: Our leaders embrace equity in all facets of our work in order to propel the organization upward. We strive to provide inclusive, stigma-free healthcare and education for our patients and communities. We engage in equity-focused advocacy and listen to and partner with reproductive, racial, and social justice movements. We practice cultural humility and seek to combat all forms of oppression, including white supremacy and misogyny.
Skills:


Work equitably

Invest in equity

Engage in intentional external partnerships

Always be learning
VALUE: WE RETURN TO OUR MISSION
Charting a Path
Definition: Our leaders provide a compelling, logical, and clear path forward in the best interest of the organization and our stakeholders. We are ambitious in our vision, we find teachable moments, and we unite multiple backgrounds and build on different skill sets to create ways forward for our organization.
Skills:


Create a compelling, logical, and clear path forward

Communicate the path forward

Walk the path with agility and learning
Stewarding Our Business
Definition: Our leaders seek the knowledge necessary to grow and maintain a thriving business. We are data-driven, financially adept, transparent, and operationally excellent. We continuously improve and adapt, and don't shy away from hard conversations or decisions in order to best deliver on our promises to employees, patients, and stakeholders.
Skills:


Make the business as transparent as possible

Break down silos

Foster business stewardship
VALUE: WE CARE FOR OUR BUSINESS
Sign Up For Our Careers Newsletter