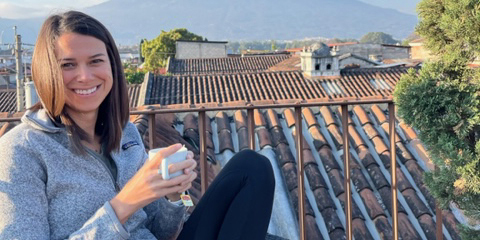 Sign Up For Our Careers Newsletter
Humanitarian Leave Program for Licensed Staff
October 17, 2023
Planned Parenthood of the Pacific Southwest (PPPSW) is dedicated to making a positive impact not only within its local communities but also globally through its innovative Humanitarian Leave program. This remarkable initiative supports the organization's licensed staff to extend their expertise and compassion to underserved communities worldwide, ensuring that essential reproductive health care reaches those without access. 
Through the eyes of Brittney B., one of our dedicated Nurse Practitioners, read more about how this program transforms lives and careers. 
Brittney's Story
Through international travel and living abroad, I developed the desire to obtain a skillset that would be useful in helping the communities in which I was spending time. And though my first career was in accounting, I went back to school to study medicine, with the intention of practicing primary care in a community health setting. After graduation, I spent five years practicing as a PCP in a community clinic, and I loved that, but found I was most passionate about providing reproductive health care.
That is why Planned Parenthood was my dream job. I have always been inspired by our organization's commitment to reproductive health care access; however, when I had the opportunity to participate in the Humanitarian Leave program, I truly understood our work's far-reaching impact.
PPPSW's Humanitarian Leave program allows its licensed staff to bring their skillset abroad to communities who may not otherwise have access to reproductive health care. This spring, I spent two weeks at a hospital in Guatemala. I spent my time performing free pap smears, doing home visits with the local midwife, and helping in the clinic with primary care patients.
"It was a truly special experience, and I am so grateful to Planned Parenthood for having a program that allowed me to take paid time to help others in a meaningful way."
I plan to continue to spend time abroad working in these communities, and I am thankful that Planned Parenthood supports that. Aside from being a social justice powerhouse, PPPSW's Humanitarian Leave program exemplifies the organization's mission and unwavering dedication to improving the health and well-being of individuals and families worldwide. I am so grateful to be here and to be a part of this team.
Find out more about the benefits of careers with PPPSW here.