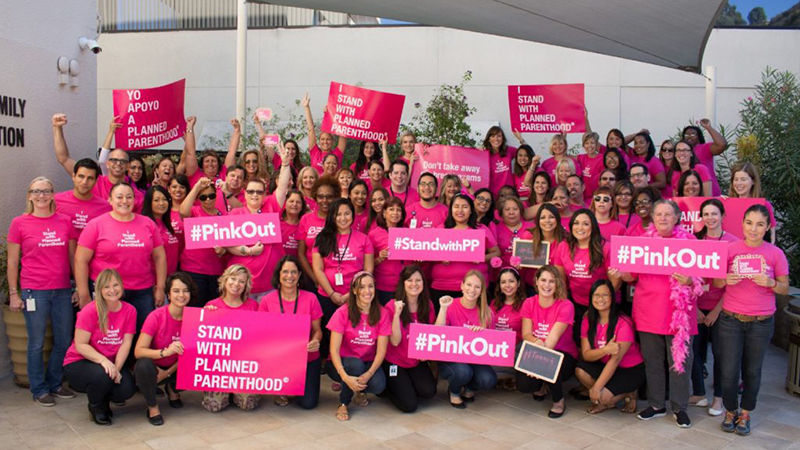 Sign Up For Our Careers Newsletter
This Month at Planned Parenthood of the Pacific Southwest: Supporting Our Women and Girls
March 13, 2020
In March, the world celebrates women, however, Planned Parenthood has been an advocate, ally, and defender of women's rights for over 100 years. Since our inception, we have fought fiercely for a woman's right to make her own choices about her life, her family, and her future. As the times have changed, our services have expanded to provide many forms of healthcare for everyone — but the fact remains that over 80% of our patients are women.
Our History of Advocating For Women
Planned Parenthood traces its roots back to nurse, educator, and founder Margaret Sanger — whose activism changed the world. Sanger had the revolutionary idea that women should control their own bodies — and thus their own destinies.
In 1916, Planned Parenthood was founded on the idea that women should have the information and care they need to live strong, healthy lives and fulfill their dreams. Today, Planned Parenthood affiliates operate more than 600 health centers across the United States, and Planned Parenthood is the nation's leading provider and advocate of high-quality, affordable health care for women, men, and young people. Planned Parenthood is also the nation's largest provider of sex education.
In 2019, we were proud to:
Serve over 2.4 million patients
Reach over 1.2 million people through educational outreach
Provide nearly 5 million STI testing and treatment services
Provide over 2.5 million instances of birth control information and services
Perform over 500,000 breast exams and pap tests
And help over 70,000 women whose cancer was detected early or whose abnormalities were identified
International Women's Day and #EachForEqual
Each year on March 8, the world celebrates International Women's Day. What started as a four-country event in 1911 has grown to include participation from over 100 countries! Each year, the committee chooses a relevant theme to help focus the conversation, with this year's being #EachforEqual.
So what does #EachforEqual mean? An equal world is an enabled world. Individually, we're all responsible for our own thoughts and actions — all day, every day. We can actively choose to challenge stereotypes, fight bias, broaden perceptions, improve situations, and celebrate women's achievements. Collectively, each one of us can help create a gender-equal world.
At Planned Parenthood, we pledge to be #EachforEqual by continuing our mission to provide high-quality, judgment-free care to every member of our community. We will continue our fight to keep a woman's decisions her own. We will empower women through health education. And we will uplift and support the women in our establishment, community, and world.
We Support Every Woman
Every woman is unique, but each woman is equal. At Planned Parenthood we provide care without judgment to every woman who walks through our doors. LGBTQIA+ women often face challenges that their straight, cis counterparts may not. We are proud to offer services tailored to the needs of the LGBTQIA+ community, including:
Drop-in Center
Education
Resources
Service Referrals
Support Groups
Join Us
We need more people like you — people who care passionately, who advocate fiercely, and who believe in our mission.
Join Our Team: Looking for a full-time role at a leading healthcare institution? Explore our openings, here.
Join Our Extended Team: Not ready for a full-time gig? There are plenty of other ways to get involved with PPPSW. Explore options here.