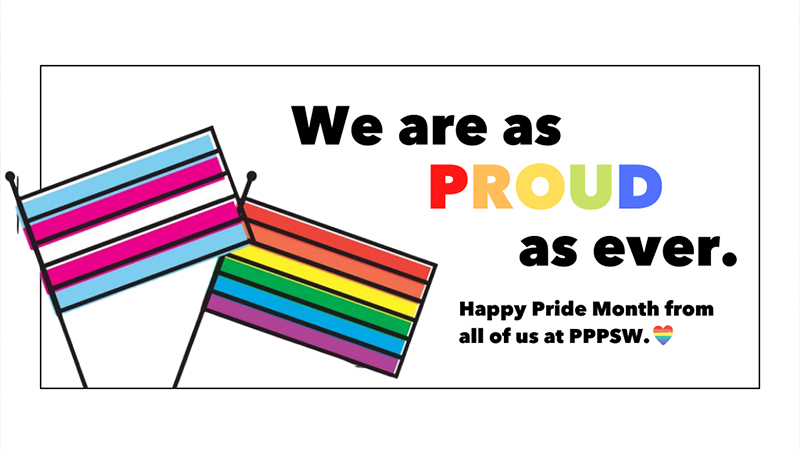 Sign Up For Our Careers Newsletter
Ways to Celebrate Pride Inside This June
June 17, 2020
Each year, Planned Parenthood volunteers, staff, and supporters show their PRIDE at the San Diego Pride Parade.
This year, we're taking Pride inside, and you can too. Read on for ideas on how to show your support for the LGBTQ community, while following WHO and CDC guidance on social distance and gatherings.
Virtual Pride Parades
We've relied on technology to keep us connected throughout quarantine, and we're using it to bring us together during Pride Month. Better yet — we're using it to celebrate our pride in cities we might not have been able to otherwise.
Cities worldwide are hosting their own versions of a virtual parade. After you check out San Diego's very own virtual lineup of events, consider showing your support in…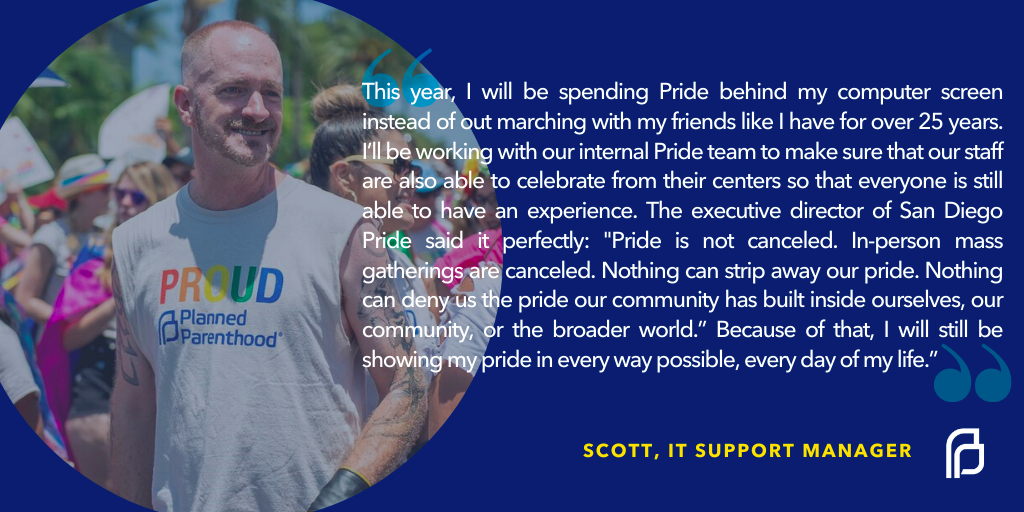 Embark on Other Virtual Experiences
Virtual Pride Parades aren't the only way to celebrate this month. There are plenty of ways to "get out" (virtually) this month, here are just a couple:
Visit Stonewall Forever, an interactive — and truly impressive — living monument to 50 years of Pride. Here you can tour Stonewall and be taken through the history of the LGBTQ social justice movement, including the first year of pride.
Attend this year's (virtual) Pride Prom! You'll spend the night engaging in queer conversation and glam sessions, with drag, artist cameos, performances and lots of dancing.
Show Your Support for the LGBTQ Community
There are plenty of ways to show your pride this month in a way that makes a meaningful impact on the LGBTQ community. Whether you're looking to shop, eat, donate, or just sit back and relax, we have an idea for you.
Support LGBTQ small-businesses — like restaurants and shops. The world needs more diversity in business — and you can help keep small businesses running during this difficult time. You can contact SBA's Network for LGBTQ businesses at lgbt@sba.gov
Support LGBTQ artists. Buying books, supporting Patreons (and similar), purchasing art, and listening and sharing music and movies by LGBTQ artists are a great way to show support.
Donate to LGBTQ Causes and Foundations. While we've come a long way, we still have a lot of work to do. People in the LGBTQ community struggle with hardships and discrimination others may not. Consider donating to one of these outstanding organizations doing amazing work.
Join Us
Planned Parenthood is proud to be part of the LGBTQ community: Many of our patients, staff, volunteers, and supporters are gay, lesbian, transgender, and bisexual people. And we share a fundamental belief that all people should have equal rights, including access to health care. If you feel the same way, consider getting involved.