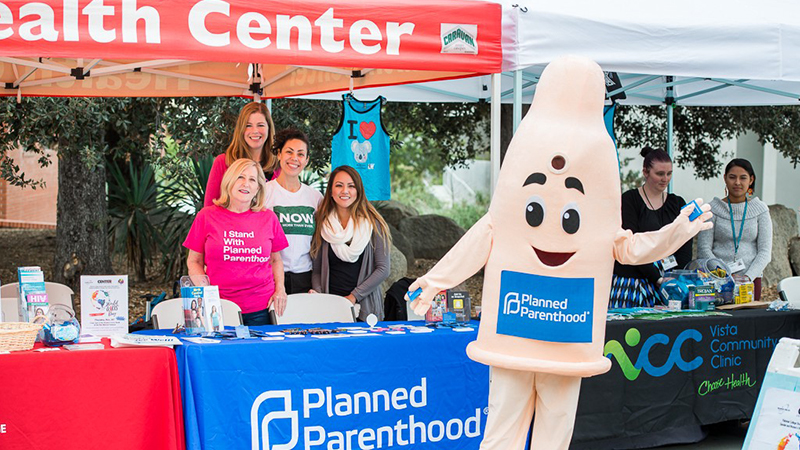 Sign Up For Our Careers Newsletter
World Contraception Day at Planned Parenthood of the Pacific Southwest
September 20, 2019
At PPPSW, we don't just wake up and go to work every morning. We are driven by our passion for medicine, technology, and the people in our community.
Our mission is simple: to provide all people with access to healthcare and services that empower them to make the best choices for themselves and allows them to live happy, healthy lives. A cornerstone to achieving that mission is providing education, resources, and access to contraception.
We're proud of the work we do in our community, and we're excited to continue that work, this month and beyond.
Why is providing contraception so important?
Providing access to contraception isn't just writing a prescription for pills. It's providing options. The option between IUD, pills or something else that works with your life. The option to wait until the time is right to have a baby, or to not have children at all. The option to have a safer, less painful period. The option to be protected from STDs during intercourse, regardless of the other party.
Nearly nine in 10 women of reproductive age will use contraception at some point in their lives for a variety of reasons. In fact, 58 percent of all women who use the pill rely on it, at least in part, for something other than pregnancy prevention, including endometriosis, polycystic ovarian syndrome (which is prevalent among women of color), fibroids, and menstrual regulation. The United States is seeing the lowest rate of unintended pregnancy in 30 years and a historic low of pregnancy among teens because of expanded access to birth control and sex education. Globally, expanding access to contraceptives contributed to a 44 percent reduction in maternal mortality between 1990 and 2015.
Contraception is not just for women, and we are proud to offer the same education and resources to all people. We offer condoms without question, vasectomy counseling and services, and are happy to answer questions.
Testing. Treatment. Prevention. Care.
September 27 is National Gay Men's HIV/AIDs Awareness Day, and here at PPPSW, we work every day to remove the stigma around being tested. Everyone who is sexually active should be regularly tested for STIs, including HIV. However, the LGBTQ community, especially gay men, is disproportionately affected by the virus.
Last year, Planned Parenthood branches across the country performed more than 750,000 HIV tests. But that's not all we do — we help our patients find treatment and prevention solutions that work within their lives, provide resources to empower them to make the best decisions for themselves, and welcome them with open arms, no matter what
What else do you do?
Our goals focus on accessibility and education. Sometimes that starts by giving people resources to explore on their own.
For people who want to know about their birth control options, PlannedParenthood.org is a good place to start. There's a quiz that can help you find out which methods are best for you.
Last year, Planned Parenthood released Spot On, a free birth control and period tracker app that helps people track and predict their periods, understand their menstrual cycle, and manage their birth control, as well as provide guidance, tips, and fun facts from Planned Parenthood experts.
The Planned Parenthood Direct™ app allows people in California to receive UTI treatment and birth control prescriptions through their mobile phone.
Work with Us
There has never been a job like this, at a time like this. Now, more than ever, we need people who are passionate about medicine, science, people and technology to join our organization. Learn more about working for Planned Parenthood of the Pacific Southwest here, and explore our open positions here.